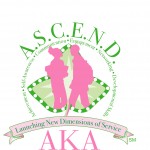 The Sorority's signature youth enrichment program, ASCEND℠  with efforts designed to motivate, engage and assist high school students in reaching their maximum potential. ASCEND℠  will focus on Achievement, Self Awareness, Communication, Engagement, Networking and Developmental Skills. Students in the ASCEND℠ Program will have an opportunity to receive academic enrichment and life skills training to support their journey to college or vocational employment.
Alpha Kappa Alpha Sorority will promote the learning process by providing substantial support to students through AKA One Million Packpacks℠ Members will donate and distribute one million backpacks and related school supplies to students over the four year period.
Support of Historically Black Colleges and Universities (HBCU) will be a priority as Alpha Kappa Alpha launches a national campaign, Think HBCU℠  to highlight HBCUs and their contribution to the sorority and society. Through education, engagement and advocacy, HBCUs will be showcased as critical venue for moving students to and through college.
Alpha Kappa Alpha Sorority, Inc.
Xi Upsilon Omega Chapter
ASCEND Program
P.O. Box 8363
Fredericksburg, VA  22404
If you have any questions, contact:  Nicole Cole at ascend@xiupsilonomega.com.